Dream11 – Get Rs.250 Joining Bonus + Rs.250 Per Refer
|
Dream 11 –
Get Rs.250 Joining Bonus + Rs.250 Per Refer, Join Fantasy League To Earn Money In Bank Account
Dream11 – Refer Friends, Join Fantasy League To Earn Money In Bank Account. Hello Friends, We feel you must have already heard about Dream11 whose ads are being regularly displayed on social platforms like facebook. We found that this program is completely a genuine one and 100% safe to play and therefore we decided to make a detailed post on it to make you people aware. So now join Dream11 and start earning money in your bank account by referring friends and playing the fantasy leagues !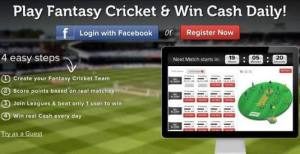 How To Join Fantasy League With Dream11 :-
1.First of all, visit here for Dream11 offer page
(Must  Join from above link to  get Rs 250 Cash Balance)
2.Sign up Manually.
Note : Dont Sign up with Facebook or directly with Google +
Sign up Manually by entering email id , Name etc.
after Manually Signing up and then
3. Verify Email you will get 25
4.verify Mobile no you will get 25 more
5.Upload Photo of your Pan Card to Get Rs 200
6. Now here you will the recent upcoming matches you can participate in.
Click on "Show" and you will see the list of matches
7.Select the match you would like to participate in.
Now you will be given 100 credits which can be used to select 11 players of your choice
– The players you feel which perform the best in that match.
   "Make sure you use all your cricketing knowledge like the recent
form of the players etc so that you choose the best players."
8. You also need to select a Captain & Vice-Captain for your team.
Their points will be 2X and 1.5X respectively. So select them carefully –
It means 2 best players you think for the match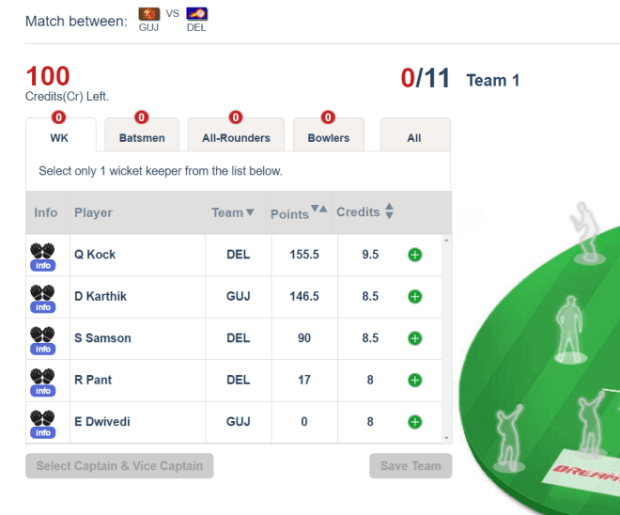 Now is the time to sign up. Enter your email id, a password of your choice and choose a team team for your team like
cricketmyworld, Revenge11, Eagleseye, sachinX1 etc and click on "JOIN"
Now you will get a pop up to verify your mobile number >>
Enter your number and verify it by giving a miss-call on 1800 1234547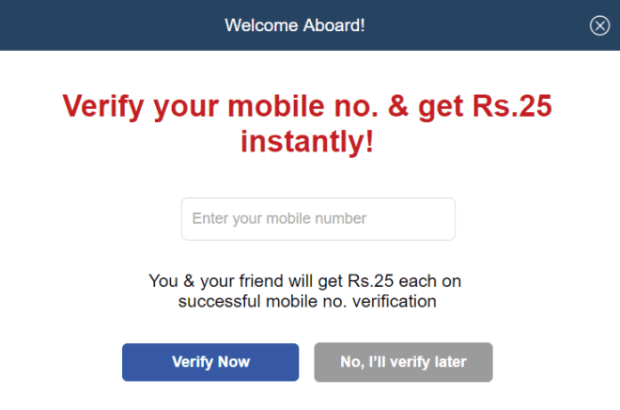 Also verify your email id through confirmation link received. On verification of mobile number & email id ,
you will get Rs 50 cash bonus out of Rs 250.  Now to get Rs 250 as referral bonus,
click on "Verify & Get Rs 250" on top menu
" Note – You will get these 250 points only if you joined through link in step 1 "
Upload your PanCard and Bank Account Details here which are necessary for your verification and sending you payments.
Once your account is verified, you will get Rs 200 more credited to your account. You can refer your friends to earn more. You can now use this amount to part in paid leagues, choose your best players and win real cash
Your players will get points based on criteria decided by Dream11 team
Few participants with highest number of points will get real cash which is transferable to bank account.
How To Refer And Earn:-
Click on "Refer a Friend" button present in top menu
Here you will see your referral link as shown in below screenshot
Now once your friend joins through your referral link, both he and you will get Rs 250 in your dream11 account after verification of PanCard, mobile number and bank details.
You can earn unlimited Cash Balance like this.
The cash balance can only be used to join paid leagues on Dream11.com. But the winnings from these leagues can be withdrawn as cash into bank account after 90 days of earning it.
Enjoy !!! You can check your referral earnings anytime.
About Dream11:
Dream11 is the world's #1 fantasy cricket game of skill with over 2.5 million gamers across India & USA. Discover an exciting, fast paced, adrenaline pumping way to enhance your cricket watching experience. Play on Dream11 and fulfil your cricket fantasy of owning a team, picking your preferred or favorite players, joining a league of your choice and raking in the winnings which can be redeemed in your bank account.